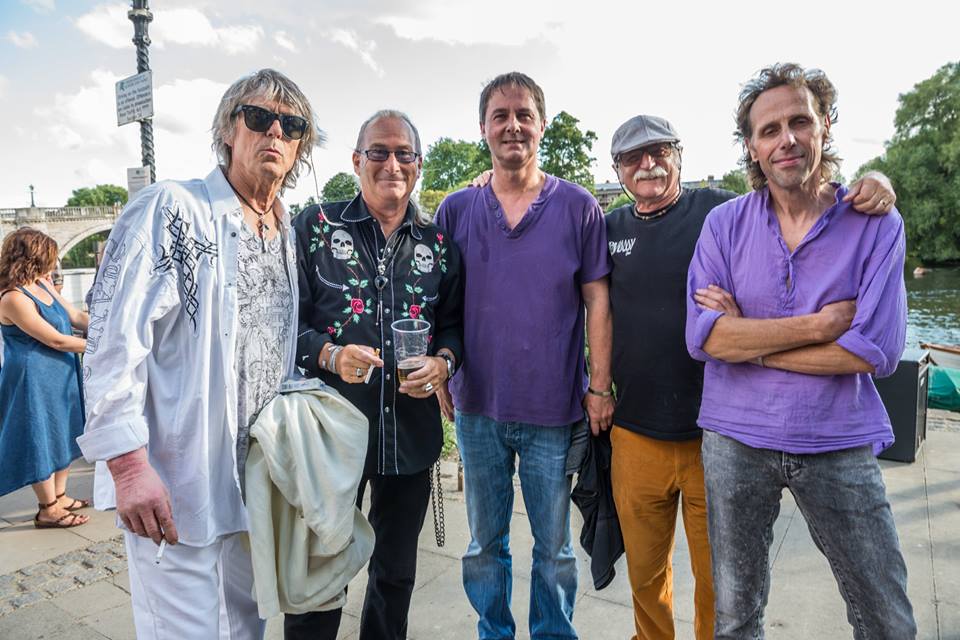 Ok. Quite a long while really. And quite eventful.
So first, apologies for the fact that, as the designated blogger I, Simon, have neglected my post for a long time. No excuses. Except maybe the usual stuff of time/gigs/holidays/family/sickness etc etc. The fact is that, while I welcome the instantaneous sense of connection we all get from the web, I always dip in with a sense of trepidation that it's the tip of an iceberg that may mean I am spending all day looking at a screen of some sort or another, rather than the world around me as I get on with my life. But you, the loyal Blue Bishops friends, family, fans, stalkers, groupies, members, past members, depping members, physicians and therapists, deserve better. So…in the future, I will try and keep you more up-to-date.
In the meantime, let's fill in some gaps. Many of you will have seen Voyager's founder, Chris Hook, and more recently, Russ Rodford (son of our regular bassist, Jim), joining us onstage for recent gigs. Both of them are highly talented players in their own right and I hope, as we do, that they feel as much a part of the band as Jim does. The reason for needing deps to help out is the fantastic success the Zombies have been having over the last couple of years. Long-term Blue Bishops followers will know Jim divides his time between a lot of projects, not least of which is his role with Rod Argent (who played some cracking stuff on our 'In the Red' album) in the Zombies. Last year alone they did 2 Stateside tours, a tour in Japan, a European tour, a trip to Russia and a UK tour. So while he is back with us for some more dates soon, he is one busy man.
On the live music front we have been having a great time playing in different places, to different people, and having a ball meeting up with old friends and making new ones. In the current music climate where it's so difficult for promoters and venues to keep their heads above water we have nothing but admiration for the effort that goes into every gig. And of course, we have nowhere to go without the fans who turn out, whatever the weather or economic climate, and put back the energy we give out by joining in the fun that can only happen when music is not just live, but 'alive.'
So, whoever and wherever you are, thanks for coming back to these pages. Let's hope I can make a visit once in a while, worthwhile, with news and updates of what we are up to.
In the meantime, you can look forward to some new material at gigs, as we work up the new numbers, bit by bit. And some more recent photos as they come in. We plan to record again as soon as we have selected the songs and put them through their paces. Long-term Blue Bishops followers will know that, with us, it can take time. But there's no point in doing it until it feels right.
Meanwhile, 'In the Red' is still available at gigs and we are immensely proud of the album, and the performances our amazing guests Rod and John 'Rabbit' Bundrick who are both a privilege to work with. Not to mention the efforts of two legends on the other side of the recording desk. John Leckie and Stu Epps.
So…in the meantime, watch this space. And keep checking the gig dates and venues.
Let's rock.
Simon