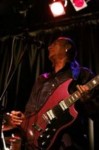 BM: What was the first gig that you played and who with?
Simon: At 14 years old with the Square Roots, our band at Nottingham High School, with Geoff Gurd [went on to be a musician and record producer] his brother Johnny and drummer Bill Davis who was very grown up to us as he was a 'fireman' on mainline trains. It was at a do for 'Mrs Vartan's Dancing Class.' No one gave a damn about learning to dance – it was just a great way to meet the girls from Brincliffe and the Girls High School.
BM: Do you think that Blues needs to evolve to stay relevant?
Simon: It always evolves. It doesn't actually have to stay relevant – how many of us have actually caught the midnight train or suffered down in Texas? Purism can be quite a negative thing in my opinion. How could you have such a talent on the scene as Joe Bonamassa if it all stood still?
BM: Do you think the blues scene in the UK will catch up with the continent, who have a far healthier scene than we do? If not, why not?
Simon: I'm afraid it's all about money. It may well be under threat but in my experience in Europe a lot of the funding to get bands over there and run festivals there comes from civic money. We have the musicians, without a doubt. But the venues are under siege with rules and regulations and seriously high overheads. It's a culture of what you can't do – not what you can do over here I'm afraid.
BM: Why do you feel that young people are not as attracted to the Blues as other Genres?
Simon: It's simply a matter of exposure. The Blue Bishops have recently been playing to many more young people in the audiences and the consistent message is that this is a new experience for them to see bands like this. If they'd known before, they would have taken an interest. And let's face it; there will always be an uncool element about liking the music your Dad likes.
BM: What other styles of music have you drawn inspiration from?
Simon: Too many to mention. Good music? But that's a matter of personal taste. Have to mention Hendrix though. Blew and continues to blow my mind.
BM: What were your first experiences of the Blues?
Simon: At Hull University with a guy I became great friends with called Vaughan Rees who had been a session man at Blue Horizon Records with Mike Vernon and played in a school band with Mike. I'd been into the British Blues boom stuff at school anyway, but Vaughan made some of the older connections for me with the original black blues artists. Vaughan and I went on to make records – and one hit – together as Frame.
BM: Of the many bands and artists you have performed with, who has left the biggest impression on you and why?
Simon: That's tricky because I've been so lucky to work with amazingly talented musicians. They all make an impression on you for different reasons. Rod Argent, Rabbit – amazing keyboard players with their own distinctive talents – but as a guitarist I think I have to say that I'm still stunned by the way Martin Barre from Jethro Tull can take what's in his head and put it straight onto the fretboard, so seemingly effortlessly and with such a musical touch. His range goes way beyond what he does in Tull.
BM: Do you think singing the Blues come from experience?
Simon: It's all about feel. More empathy than suffering I think. We can hardly say we're going through the privations of the early blues artists, but almost like a good actor can pick up on a part, if you can get into the feel you can pull it off.
BM: If you wasn't a musician (in a band) what would you be doing?
Simon: Writing for comedy and film.
BM: What is the biggest festival/venue you have played and who with?
Simon: Bishopstock with Gary Moore, Van Morrison, Buddy Guy, etc etc.
BM: You are a singer/songwriter. What drives your song-writing?
Simon: Waking up at 2 am in the morning with something going round my head or just fiddling with a new guitar or tone and…off you go.
BM: If you had the opportunity to play with any blues artist dead or alive live on stage who would it be?
Simon: Hendrix, just so I could say I had. I don't think I could contribute much as I'd be too busy listening, slack jawed, to play!
BM: What do you do to relax when you have some spare time away from music?
Simon: I'm a car freak. I have a Ferrari, Porsche, Vintage MG and two Mercs that take up a lot of TLC. That or just sit in my garden in Devon with a glass of wine watching the wildlife.
BM: When did you start playing (guitar) and how many do you own now?
Simon: I was twelve when I taught myself the three chords it took [I know about four now!] and I now have over 50 guitars.
BM: How would you like to see music industry change over the next 10 years?
Simon: A realistic understanding of the fact that music has value. Nice though it is to get it for free, it's actually someone's living. I think the labels need to look very carefully at what the original Artists and Repertoire guys actually did too. Stop cloning – start honing. Don't just pick up talent and be a fashion house or ad agency for it. Do something to develop talent that actually about music. And artists? Supposedly the power is in our hands now, but realistically, to intrude on people's lives, we need to get radio plays more easily in the UK.
Thank you very much Simon.
Barry Middleton